Easily evaluate thin film materials that are difficult to measure with the flash method
This system measures thermal diffusivity in the thickness direction of solids such as film polymers, paper, and ceramics by using the AC joule heating method.
With specialized in room temperature measurement only, which is highly needed, a compact body and low cost have been achieved.
Applications
Thermal diffusivity measurements of film materials (thickness direction)
Polymer films, heat dissipation sheets, electronic device materials, conductive materials, power devices, and other polymer materials
Features
Compared to the flash method, the thickness limitation of the sample is one-half or less, making it optimal for thermal property evaluations of thin polymer materials
For polyimide-based samples, 10 µm to 200 µm
The detector has been widened so that it can measure at the surface of the sample, so measurements have high reproducibility
Power saving (100 VAC 15 A, excluding computer)
The installation area is about the size of A3 paper, less than half of the size of our conventional model (FTC-1)
A patent and a standard
International standard for plastics
Complies with ISO 22007-3
Specifications
Model
FTC-RT
FTC-1
Measurement
Properties
Thermal diffusivity
Thermal diffusivity
Temperature Range
RT
RT to 200 °C
Sample Size
Dimensions: 10 mm to 20 mm square
Thickness: 10 µm to 200 µm (polyimide-based samples)
20 µm to 300 µm (quartz glass)
Measurement
Atomosphere
Air
Inert gas, air
Utility
Power
AC 100V, 15A(Excluding PC)
System dimension
Approx. W355 × D530 × H232(mm)
Height when furnace cover is opened Approx. 495 mm
System weight
Approx. 20 kg (Excluding protrusion)
Block diagram (Sample assembly)

Analysis software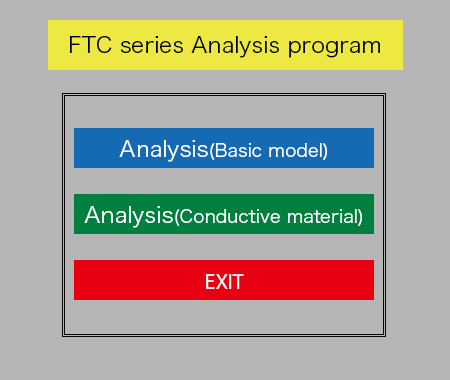 Analysis shall be done with dedicated software.
Analysis(Basic model)
Analysis for all measurements
Analysis(Conductive material)
Analysis at measuring sample sabdwiched with Polyimides.
Measurement example of polyimide films commercially available in the market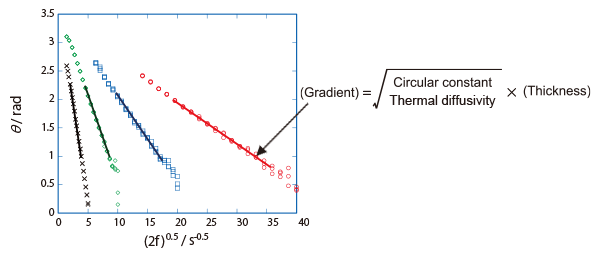 | | | | | |
| --- | --- | --- | --- | --- |
| Thickness(μm) | 13 | 26 | 56 | 133 |
| Thermal diffusivity(×10-6m2s-1) | 0.10 | 0.10 | 0.11 | 0.12 |
Analysis service by using this product