80°C/s high speed annealing possible at low cost.
This infrared lamp heating system with parabolic type reflectors can heat uniformly a wafer of the size up to 6 inches. It is capable of high-speed heat treatment, the most available for the research and development of heat treatment process. Silicide formation in individual semiconductor process and process annealing of compound semiconductor are available.
Features
Capable of high speed heat treatment.
Capable of high speed cooling with the metal chamber cold-wall Cconstruction.
Gas flow after vacuum displacement is also available.
Temperature program setting and external signal input is easily executed from a PC.
Temperature data during heating can also be displayed on a PC.
A quartz protection plate (optional) can be installed in the chamber to prevent contamination.
Equipped with various safety measures.
Capable of excellent temperature distribution and reproducibility with the 9 zone control.
Specifications
| | |
| --- | --- |
| Temperature Range | RT ~ 1100 °C |
| Sample Size | 6-inch wafer 1 piece (4 or 5-inch wafer is optional.) |
| Atmosphere | In Static gas, Gas flow, Air, Vacuum (Vacuum pumping system is optional.) |
| Heating Method | Top single-side heating method by paraboloidal surface reflected infrared lamp |
| Maximum Heating Rate | 80 °C/s |
| Uniform Temp. Precision | ΔT = 10 °C at 800 °C being maintained in N2 |
| Control Sensor | Thermocouple JIS "K" (inserted in SiC coated carbon susceptor), pyrometer (option) |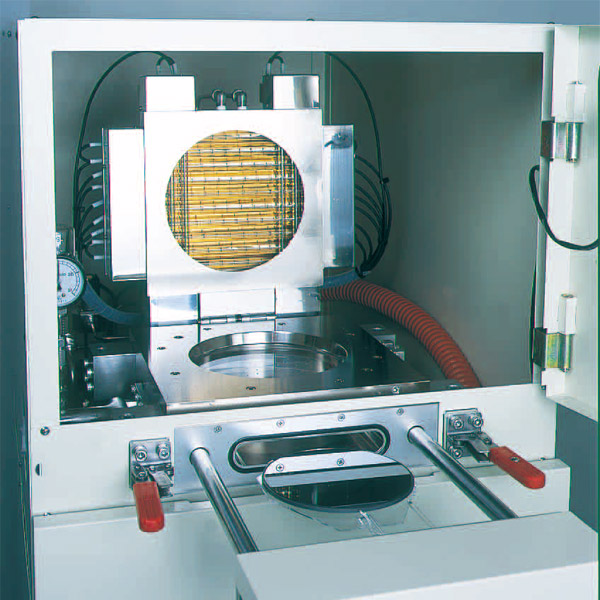 Constitution
Infrared gold image furnace
Heat treatment chamber
Programmable temperature controller
9-zone output unit
Span change unit
Gas piping system
Hot air exhaust system
Frame・Switch board
Pyrometer (option)
Cooling water circulation system (option)
Vacuum exhaust system (option)
System diagram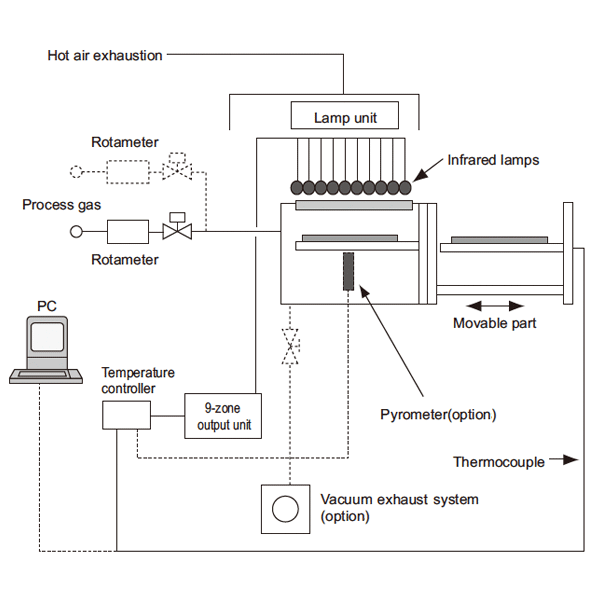 Utility
Outside dimensions
Approx. W600 x D1000 x H1700 (mm) (excluding protrusion)
Weight
Approx. 300kg
Power requirements・grounding
Three phase AC 200V 30kVA, D type
Cooling water
City water 15L/min or more, 0.3MPa or more
Vacuum exhaust port
KF-25
Gas port
IN: 1/4 Swagelok joint (or equivalent)
OUT:3/8 Swagelok joint (or equivalent)
Hot air outlet
Approx. φ50 short tube
Analysis service by using this product